The lights fade. The audience applauds. A board with large black curling letters proclaims, "Cabaret and Coffee." It is lit with dozens of lightbulbs. The emcees walk out and begin their banter. The annual KMHS talent show has begun.
Each year, students at KMHS perform a variety of acts in the school talent show. Acts have included original music, duets, piano solos, and harp solos. After the performance, attendees and performers gather in the cafeteria to eat deserts and drink coffee, hence the name "Cabaret and Coffee."
"I have to get a six-page script memorized in a week. So, that's kind of nerve-racking. But I'm excited. I think it'll be good," said emcee Lincoln Maloney. The other emcee this year is Mary-Grace Pearce. They are both juniors involved in drama and chorus.
This year features an impressive collection of acts. It will take place in the Susan T. Gunderman Theater at 7 p.m. Sept. 14. Tickets are on Booktix under KMHS drama. Cabaret and Coffee is directed by two student directors and Patricia Jacobson (known as Mrs. J), the chorus teacher. The directors this year are Amyiah Gavin and Reid Sullivan. Both are seniors active in chorus and drama.
Gavin said that she has been having a lot of fun with her role as director and is happy to be working with Reid and Mrs. J. She hopes for a good turnout and is telling everyone she knows about the performance.
"You just want to set people up to where they can show off their talents in the best way possible," she said. "And so, it's very stressful when you feel like you might do something or say something that might mess that up, you know what I mean? But we have some very talented people… It's been so easy to direct the people that I have because they just all are just so good."
There are 22 performers this year, with a total of 21 acts. Several of them expressed nerves and excitement for the fast-approaching performance.
Juan Hernandez is a junior who has performed twice before in Cabaret and Coffee. This year he is singing a song in Spanish, called Motivos, by Jenny Rivera. "I'm feeling – not scared – just like, worried about the show being like, not how it used to," he said. "It's just like, one week, and then showtime… That's what I'm worried about, but I know it's all going to work out."
Micah Williams is a junior who is singing "Spotlight" by Jennifer Hudson. This is his first year performing "The song's a little tiring," he said. He said that he chose the song because he ran out of ideas.
Nolan Jinks is a sophomore who plays piano for weddings. This is his first year as well. He said, "I am playing a piece called the Merry-go-round of Life, from the movie Howl's Moving Castle." He said he chose that piece because it sounded cool, and that he was "Very excited for this opportunity for such a large audience."
Many of performers have substantial experience in their fields. Multiple singers have performed in the school musicals and chorus concerts. One of the pianists, Ethan Olah, attended Governor's Honors Program for piano and music. Two other musicians play for weddings. The range of moods and genres of the performances is sure to add to the show this year.
"I'm doing the monologue "Sirens at Sea" by Diem Larsen," said Maloney. "I'm feeling good, this is my first time ever doing it and being the emcee… I think that the script that we worked on is really good, and I think that my monologue's decent enough."
When asked what made him choose it, he said, "I wanted to do a dramatic monologue instead of comedic, because a lot of times I do comedic work in the shows that we do, and I haven't really gotten the chance to do something dramatic… Also it's from The Odyssey, which I really loved reading in Lit."
Cabaret and Coffee is a special KMHS tradition that showcases the talent here at our school. Come and support your fellow students next Thursday at the show!
Link to tickets: https://kmhsdrama.booktix.net/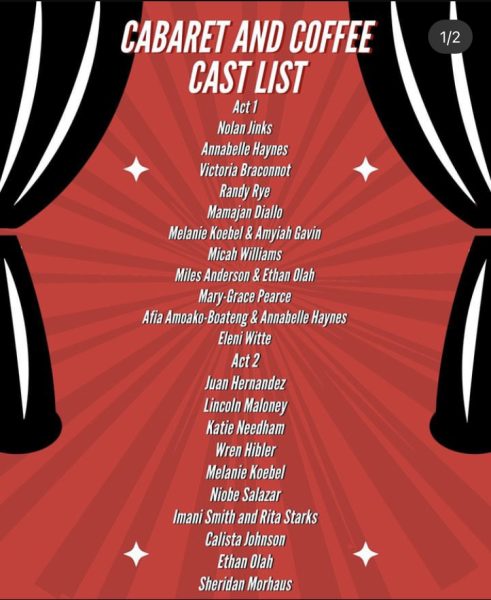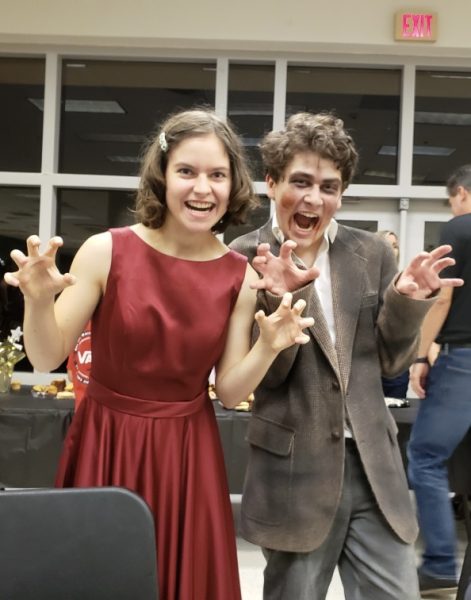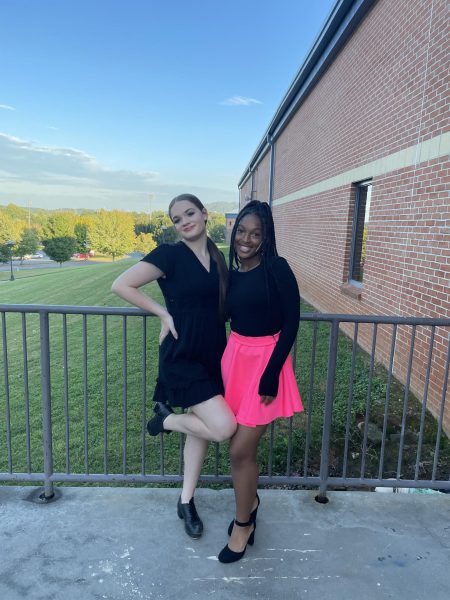 from left to right: Serena Parker, Amyiah Gavin