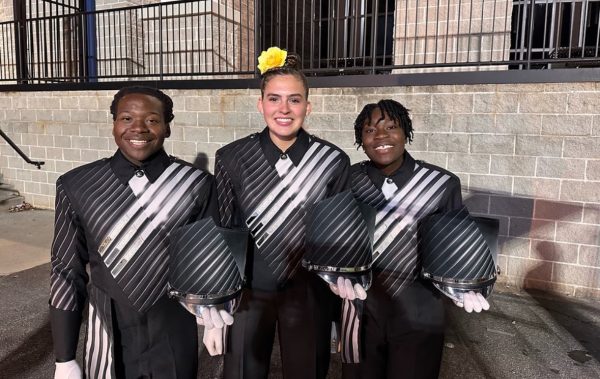 Pictured above: Drum majors KJ Williams, Lily Tow, and Bummobi Nwosisi
The Kennesaw Mountain High School Marching band has put in countless long, tiring hours in preparation for the upcoming competition in Troy, Alabama.
In the previous competition at ETSU, Tennessee, Kennesaw Mountain put on a fantastic show that placed seventh overall out of twenty-five bands.
At the competition held at Kennesaw Mountain, the marching band put on its best performance yet, showing major growth in such a short time.
The show, titled "Where You Are Now," portrays a journey of a young girl's path down a road—with the road symbolizing the obstacles one must face to reach their goal. Where You Are Now portrays emotions like serenity, frustration, and relief. It includes music from pieces such as "The Long and Winding Road," "Goodbye Yellow Brick Road," "Trittico," "Somewhere Over the Rainbow," "So It Goes," "Symphony No. 4," and "Air Dublinesque."
There is an enormous amount of time and effort put into making the show happen. Marchers spend countless hours 5 days a week with up to 14 hour-long work days to make everything perfect. Meticulous details become vital as the season reaches closer to its end. The amount of hard work and time spent in making something so great is unparalleled to almost any other activity.
But, through all the long, grueling hours, there is a major reward. "I think our experience with band greatly models the theme of our show," a marching student who chooses to remain anonymous states. "The journey to get to the destination is long and tiring, but in the end, it will all pay off."
Lauren Wilder, who plays clarinet, says, "With all good experiences come work along-side. Even though it was difficult and hard to push through, I wouldn't have the memories I do now."
The Troy performance is the last performance of the season on November 4th. The Kennesaw Mountain Marching Band will do their very best to ensure that their performance is the best one of the season, and that every second spent rehearsing for that one moment will pay off immensely.