Each year, Cobb County chooses one speech language pathologist to receive the Sarah Lowder Exemplary SLP of the year award. The award is named so after a very special SLP who passed away years ago. The recipient of this award is a teacher who is not only recognized for their contributions and dedication to the discipline of communication science, but they must also be someone who creates lasting relationships with their students and plays an active role in their school. All of which can easily be said about KMHS teacher Jenna Devine.
Devine has been at Kennesaw Mountain for five years and makes a lasting impact on both students and staff. "Ms. Devine is one of the most positive people in the building," says English teacher Holly Hoover. "She loves her students and goes out of her way to support them in every endeavor."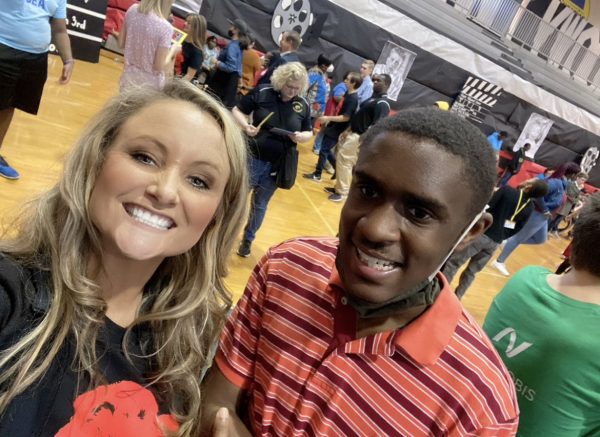 On receiving her award and recognition from the county, Devine had this to say:
I am so beyond thrilled, shocked, and grateful to have been chosen as the recipient for the 2022-2023 school year. I have been a speech pathologist in CCSD for fourteen years and absolutely love being an SLP at KMHS. Some of the best parts of my job are creating and supporting an inclusive environment in hopes of it transferring out in the real world for our students. I love supporting our kids in events and activities that many take for granted, such as going to prom, playing a sport, being part of a club, and so forth. Communication is developed through every person our students encounter in their environment, and I am lucky to be part of so many special students' special high school experience. 
WE LOVE YOU, MS. DEVINE!!!!!