Matthew Krieger Chalktoberfest 2022 Winner
Each year, the Marietta Cobb Museum of Art works to build community by holding a "Chalktober Fest " at the Marietta Square.  This is an award-wining, free event that celebrates professional chalk artists from around the country, including many local vendors, artists, and restaurants.
Registered artists arrived early on Saturday morning to begin their creations. Sitting down at their assigned location, they began the long, yet rewarding process of bringing their visions to life. While some artists opted for creating large depictions of well-known figures, such as Thanos from The Avengers and Neytiri from Avatar, others opted for creative expressions closer to home by drawing historical and cultural pieces. Every drawing was unique and showed immense talent.
On Sunday, judges and community members took to the streets to examine the finished artwork and choose their winners. 80+ artists waited in anticipation to view the results. While there were many notable winners and recognitions granted, KMHS wants to extend a special acknowledgement to one of our own.
Matthew Krieger, sophomore, won the Community Chalktober Competition in the Teens age group!!
Here is a picture of his completed work, along with an interview about his creative process.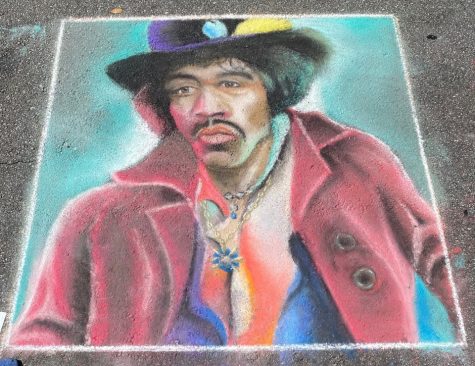 Question: Tell us about your drawing!
Matthew Krieger: "For my chalk drawing, I chose Jimi Hendrix because he is a big inspiration for me as a musician. His music helps me learn how to be more innovative in my art and guitar playing."
Q: Talk to us about your work with chalk.
MK: "Chalk is not my usual artistic preference – I usually stick with pencil & paper. Chalk art is a good way to incorporate my bright and vibrant colors into my art. Chalk can be annoying because your hands can hurt by constantly rubbing it on pavement."
Q: How are you feeling after this amazing accomplishment?
MK: "I am very proud about winning the chalk fest! I was surprised by the amount of adoration given to my art and it meant a lot that people cared so much about [it]. I expected my drawing to look pretty decent because this wasn't my first time using chalk."
Kennesaw Mountain is so proud of you, Matthew! 🙂
Enjoy these photos of other students working on their chalktober creations.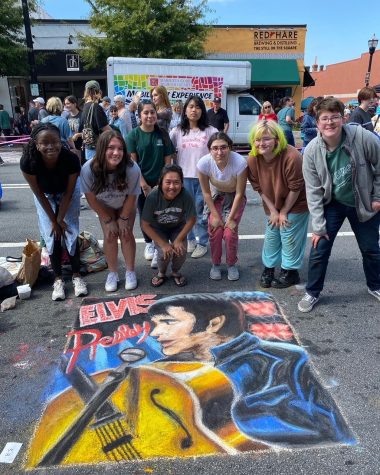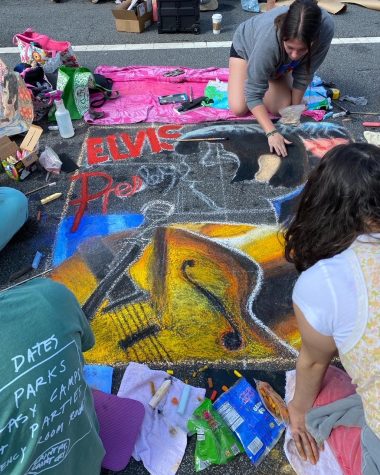 Leave a Comment