Corky Kell Turns Up The Heat
For 2023 Lineup
The Corky Kell + Dave Hunter Classic has kicked off Georgia's high school football season every year since its start in 1992. Former Brookwood head coach Dave Hunter began the tradition with a dream to motivate student athletes by offering them a chance to play on professional turf. Originally at the Georgia Dome, this year's classic will be at various different stadiums throughout north Georgia.
Kennesaw Mountain's first appearance at the classic was last year, when we won an intense battle against Cass High School by a single point (26-25) after a KMHS field goal in the 4th quarter (you can read the highlights HERE). In reflecting on the game, head coach Caleb Carmean praised the boys for their grit and ability to battle adversity until the very end. He also noted that the team has an incredible amount of trust in each other, and he felt confident that it would carry them throughout the season. To his credit, the team finished the 2022-2023 season 7-3 overall and 2-3 in the region.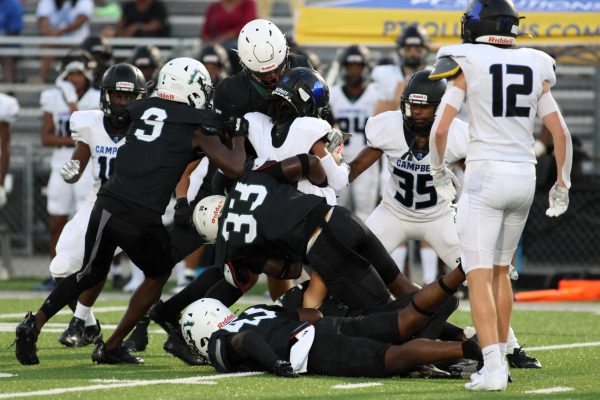 This year, KMHS is set to go against Creekside High School on Friday, August 18th at Rome, GA's Barron Stadium (7:30 pm). While the Creekside Seminoles did finish 1st in their conference last year, as opposed to our 3rd ranking, it is important to note that they are 5A while KMHS falls in 7A. Additionally, we have the upper hand against Creekside when it comes to the percentage of players who sign to D1 colleges, making us an absolute force to be reconned with. We're confident that we will come out on top!
All in all, it will be an exciting game that you don't want to miss!!!!
Here's how to attend:

KMHS has rented a bus to take students to dinner and the game. It is $35, and you can pay on MyPaymentsPlus (dinner is included in the price, but students should bring extra dollars for snacks at the game). The bus will leave from school at 2:00 pm.
Purchase your tickets by clicking HERE
With a 5:30 pm kickoff and Friday afternoon traffic, we want all students attending to be safe. If you are going to check out your student early on this date to give them time to get to the game, please provide a written note to the attendance office as soon as possible and have your student show Ms. Marchbanks their ticket. This will ensure that your student can makeup any missed work.