Rick Riordan, Diversity Done Right
Roasting Writers: Rick Riordan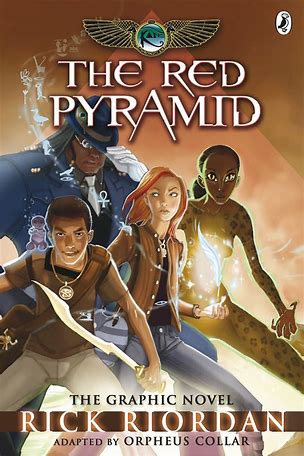 Percy Jackson began as a bedtime story for Rick Riordan's son who has ADHD and dyslexia, and after that first series' success he continued to write books featuring heroes for everyone. Over the years and over the series, which are all set in the same universe, his cast of characters grew ever more diverse.
Percy Jackson & the Olympians (2005 – 2009)
During the course of the first five-book series, Percy Jackson & the Olympians, it remains unremarkable in its diversity with few minor and implicit people of color. However, Riordan's positive portrayal of ADHD and dyslexia made waves in terms of representation.
Following the success of the Percy Jackson series, Riordan expanded the universe and the diversity through two new series- The Kane Chronicles and The Heroes of Olympus, which brought an entire cast of people of color.
The Kane Chronicles (2010 – 2012)
From a series where almost everybody is white, The Kane Chronicles is a jump to where almost nobody is white. The protagonists Sadie and Carter Kane have a white mother and black father. After their mother's death, their maternal grandparents offered to take in Sadie, who passes as white, while Carter who doesn't pass lives in a state of constant travel with their archeologist father. Other black characters include their uncle Amos, who later takes them in, and Sadie's unfortunately cursed crush Walt Stone. (Love interest wise, rather than a dreary and cliche love triangle, the series ends on a rather progressive note with a quasi-polyamory relationship.) Since it is in fact an Egyptian series, there are many characters featured, both human and god, most notably Zia Rashid, an Arab magician who later hosts the sun god Ra.
The Heroes of Olympus (2010 – 2014)
In The Heroes of Olympus, many characters of color are introduced and each are well-developed with complex backgrounds and incredible personalities. The entire main cast of people of color includes: Piper McLean (half Cherokee), Leo Valdez (Latino), Frank Zhang (Chinese-Canadian), Hazel Levesque (African-American), Reyna Avila Ramírez-Arellano (Puerto Rican). Major character Nico di Angelo is also revealed to be gay.
Through its characters, the series discusses heavy topics including trauma and the reactions of those affected by it. As demigods many of the characters have only one parent, are hunted down, abandoned, or experience trauma due to their half-god nature. Riordan introduces these topics and brings healthy discussions through them, such as Reyna's history of patricide from an abusive war veteran father, Hazel's involvement in awakening a giant because of her mother's influence and greed, and Frank's livelihood being tied to a burning stick. The lessons learned through each character are important in the morals that they teach.
Magnus Chase and the Gods of Asgard (2015 – Present)
With the end of both series, Riordan sets his sights on Norse mythology. Magnus Chase and the Gods of Asgard proves to be his most inclusive series, incorporating many characters of color as well as LGBTQ+ characters. The titular character is pansexual with a gay couple as his quasi-parental figures. Most notably, Samirah al Abbas, a Valkyrie daughter of Loki and a devout Muslim, and Alex Fierro, who is genderfluid and transgender, are both introduced in the series and their identities are respectfully discussed. Islamophobia and transphobia are mentioned, but not shown.
Riordan received the Stonewall Book Award, given to works of exceptional merit for children or teens LGBT experience, for the second book of the series, The Hammer of Thor. The Hammer of Thor  introduces readers to Alex Fierro, a gender fluid teen who has "startling eyes, an impressive sweater-vest, and a tendency to hit people." Alex is a hero and represents the expansive possibilities of gender for future generations.
"I am trying to do more," Riordan stated in his acceptance speech, "Percy Jackson started as a way to empower kids, in particular my son, who had learning differences. As my platform grew, I felt obliged to use it to empower all kids who are struggling through middle school for whatever reason. I don't always do enough. I don't always get it right. Good intentions are wonderful things, but at the end of a manuscript, the text has to stand on its own. What I meant ceases to matter. Kids just see what I wrote. But I have to keep trying. My kids are counting on me."
The Trials of Apollo (2016 – Present)
In conjunction with Magnus Chase is The Trials of Apollo, which is a return to Camp Half-Blood. The series centers around the aftermath of The Heroes of Olympus, where Apollo has been turned into a mortal named Lester Papadopoulos. Through Apollo's eyes, the characters at camp are much more diverse. Concerning race, the camp has grown much more diverse. Austin Lake and the sisters Laurel and Holly Victor are African-American; Alice Miyazawa and Billie Ng are Asian-American; Chiara Benvenuti, Italian; Paolo Montes, Brazilian…you get the picture. As for LGBTQ+, Will and Nico from the previous series are still in a happy relationship, mentions of demigods with LGBT parents are made, and there may be a lesbian couple of ex-hunters.
Rick Riordan Presents (2018 – Present)
One would think Riordan would not stop there and continue writing series centered on every culture's mythology, incorporating more and more into his ever expanding universe. For the most part, that's correct but not in the way anyone would think. Rick Riordan Presents is an imprint series within Disney Publishing Worldwide. The series features books that are connected to ancient myths in the modern day, much like Rick Riordan's books, but are set in a distinct universe from his.
On his website, Riordan says "I saw that there was a lot of interest in reading fantasy adventures based on different world mythologies, but I also knew I wasn't the best person to write them. Much better, I thought, to use my experience and my platform at Disney to put the spotlight on other great writers who are actually from those cultures and know the mythologies better than I do. Let them tell their own stories, and I would do whatever I could to help those books find a wide audience."
Series under the imprint include The Pandava Quartet by Roshani Chokshi centered on Hindu Mythology, the Storm Runner series by Jennifer Cervantes centered on Mayan Mythology, the Sal & Gabi series by Carlos Hernandez centered on Cuban Mythology, Tristain Strong series by Kwame Mbaliia on West African/African American Mythology, and the Paola Santiago and the Drowned Palace series by Tehlor Kay Mejia on Mexican Mythology. Stand alone novels featured are Dragon Pearl (Korean Mythology) by Yoon Ha Lee and Race to the Sun (Navajo Mythology) by Rebecca Roanhorse, both to be released in 2019.
What started as something small grew into an entire universe of diversity. Rick Riordan did what most authors should do – he recognized the society around him and wrote relevant and meaningful characters to reflect that. Rather than retconning and retroactively adding in small details that contribute to "progressive" and "mainstream" ideals, he puts the effort into building these characters. Riordan's characters are well thought-out and diverse heroes for everyone to identify with.
Leave a Comment