~KSU Model UN Conference 2023~
April 10, 2023
 Several weekends ago, I had the privilege of facing off with Russia (as the United States) while we debated the United Nations Law of the Sea. 
We were both delegates in the Kennesaw State University High School Model UN Conference. Model UN gives students the chance to roleplay international diplomacy and problem solving. At KMHS, we meet Monday mornings before school and practice public speaking, debating, goal setting, and writing.
Our Model UN team participates in the KSU conference each year, as well as the conference at Georgia Tech and at the Gwinnett School of Math, Science, and Technology. During previous conferences, our esteemed members Parker Avery, Sophia Romero-Delgado, and Cassidy Woodham earned awards for their performance and skill.
While at the conference, I talked to two of our Model UN delegates, Andrea Hergert and Parker Avery. Andrea is a sophomore in Magnet who is also involved in the group Hispanic Organization Promoting Education. She came to the conference because she found the debate topics interesting. Her topics involved chemical weapons and outer space. She enjoys being in Model UN and especially likes the unmoderated caucuses. These are periods of time for delegates to talk to each other without giving formal speeches. Parker is president of both Model UN and Quiz Bowl. He is a senior in Magnet and has been doing Model UN for all four years of high school.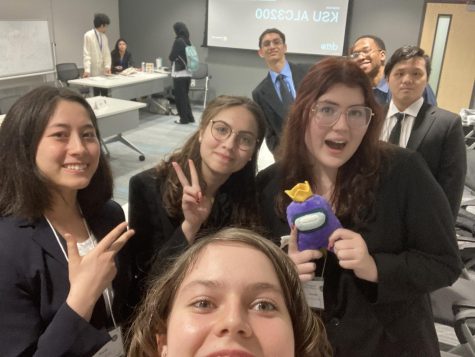 Interview Q&A
Q: What drew you to Model UN?
Parker: I think I was tricked. I didn't know there was conferencing or speaking involved, and I really wasn't ready for that.
Q: What would you say about KSU Model UN?
Parker: I would say KSU Model UN is really great. I like that it's so close and that I get to go to another conference. KSU … they take themselves a little serious sometimes with the rules, but I guess there's a time for that. Anything can happen [In the conference].
Q: Aren't you president of Model UN?
Parker: Am I not? I am. I think so.
Parker: Join Model UN. It's great.
Andrea: MUN is fun.
With no prerequisites for joining, Model UN is the perfect club for anyone who enjoys international issues or debating and wants experience working with a team towards a given goal. If this club interests you, definitely make sure to check out the KMHS Model UN team for more information.